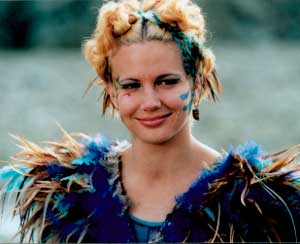 AMBER/EAGLE
Amber was one of the leaders of the Mallrats. At the end of season one she was thought to have died in an explosion but is found again in season three with the new name Eagle. She rejoins with Bray and the tribe and helps fight the Chosen. She has always wanted to build a new world and teach the younger kids the things that they would have learned in school. She is now pregnant with Bray's baby. and they are together.

Beth Allen is 17 and plays the part of Amber/Eagle. She has been acting since 1993. She was a member of the PAS Children's Theater and appeared in Pinnochio and Hairy Maclary at Auckland's Aotea Center. She has been in several television commercials, had a guest role as Eva in the television drama Riding High and played a young Julie in the film The Ugly. Beth was a core cast member of The Legend of William Tell as Princess Vara. She also had a lead role in William Shatner's A Twist in the Tale- The Green Dress.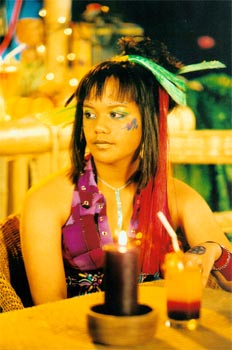 CLOE
Cloe is one of the younger members of the tribe. She is very caring and understanding and has a great love for animals. Patsy is Cloe's bestfriend and Salene has been a mother figure to her ever since the virus wiped out all of the adults. Cloe has always been easily frightened and this is one of her greatest weaknesses. For a while in season two she thinks she likes Dal because he is around when she discovers boys.

Jaimee Kaire-Gataulu plays Cloe and is 14 years old. She has a variety of experience in film, radio and television. She has had roles in the short films Clown Story (1996) and The Birthday (1994) and she played the lead in the short film The Kiwi and the Water Melon (1993). Her television work includes roles in The Visitation and Xena. Most recently, Jaimee has worked as a reporter on What Now for KVNZ. She has recorded several radio commercials and has a weekly radio spot with Wellington radio station, the Breeze.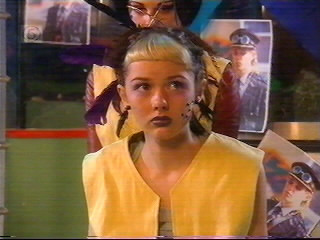 PATSY
Patsy is one of the younger members of the tribe. Cloe is her best friend and she has always looked up to Salene as a mother ever since the virus killed all the adults. Patsy is caring and sesitive and has a great love for animals. Patsy is quite gullible sometimes and this gets her into trouble when Trudy persuades her to do bad things after she returns from being with the Chosen in season two. She makes up for this and uses her courage to spy on the Chosen in season three.

Sarah Major plays Patsy and is 13 years old. She has recorded radio commercials and provided voices for a cartoon series promo. Sarah has appeared in television commercials, the short film Flying and as Gaela`s daughter in Hercules. Sarah has appeared in William Shatner`s A Twist in the Tale - The Magician in which she played the part of Emily Watson.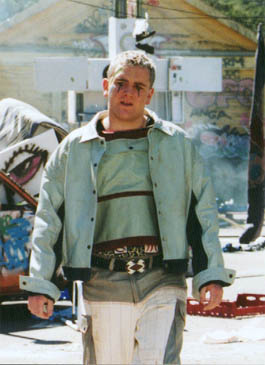 RYAN
Ryan is one of the protectors of the tribe. He cares for everyone in the tribe. He was in love with Zandra in season one and married Salene in season two. Ryan wants to start a family of his own. Sometimes he isn't that clever and acts before he thinks. He will lose his temper when he is trying to stick up for Salene like when he attacks the guardian for taking Salene away from him.

Ryan Runciman plays Ryan and is 19 years old. He has acting experience in a variety of media. He has had roles in film, television commercials and television drama as well as being experienced in voice over work and stills photographic work. Ryan is also a trained singer and tap dancer. Ryan played the part of Darren Hunt in the Duellists, a screenplay in Cloud 9`s previous production, William Shatner`s A Twist in the Tale.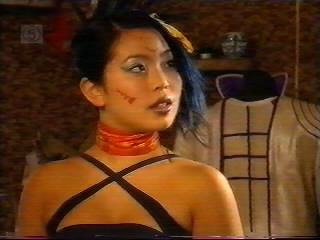 TAI-SAN
Tai-san has always believed in spiritual things and sticks to her beliefs very strongly. She loves to meditate and uses her knowledge of nature to make the antidote that cures the virus in season two. She is very strong minded and know exactly what she wants. Tai-san is known as the tribes resident space cadet because of her ways. In season two she falls in love with Lex and they get married. Then in season three she goes over to the side of the chosen for awhile and is at The Guardian's side all the time.

Michelle Ang plays Tai-san and is 17 years old. She is a trained ballet dancer. She has been a guest artist with the New Zealand Royal Ballet, having danced for them in Giselle, The Nutcracker Suite and Romeo and Juilet. She is a member of the McDonald`s Young Entertainers Super Troupe. Michelle made her television drama debut in Cloud 9`s previous production William Shatner`s A Twist in the Tale - The Green Dress.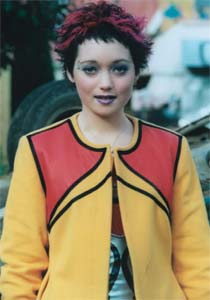 TRUDY
Trudy is the caring mother of Brady, Zoot's baby, whom she was with before the virus hit. Trudy is caring and sensitive and at some times she thinks that everyone is out to get her. She has always been in love with Bray, although he hasn't been able to return this affection. Because of her need to be loved and needed, Trudy betrayed the mallrats to The Guardian and The Chosen. After awhile she realized what she had done and rejoined the Mallrats.

Antonia Prebble plays Trudy and is 17 years old. She last appeared for Cloud 9 as Jem in A Crack in Time in the series William Shatner`s A Twist in the Tale. Prior to this Antonia played the lead role in the television drama series Mirror Mirror. She has theatre experience having appeared in Starchild in 1994 and The Magical Kingdom of Thingymijig in 1993. Antonia studied ballet for 8 years and also plays the flute, the recorder and guitar.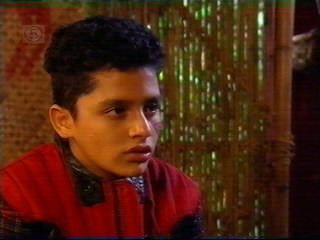 DAL
Dal helps the tribe by building things and coming up with brilliant ideas. He helped Jack, his best friend, build things like the water filter in season one. He is very caring towards the tribe and its members and shows this when he helps Trudy recover from an overdose and falls in love with her. He loved her enough to run away with her but that got them into trouble with the Nomads. Dal loves to farm and live off the land. In season two he falls for Ellie and they become good friends.

Ashwath Sundarasen plays Dal and is 15 years old. He has participated in drama at school, has learned Bharat Natyam (an Indian classical dance) for four years and has also learned Indian classical music. Ashwath has recently been a member of the children`s chorus in a production of Joseph and the Amazing Technicolour Dream Coat that toured New Zealand.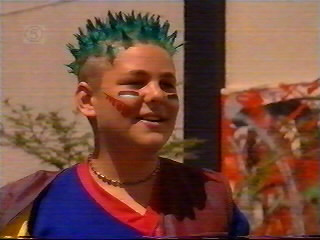 KC
KC came into the scene when he was caught stealing at the mall in season one. Lex persuaded everybody to let him stay and so KC looked to Lex for advice and instructions about things from then on. KC loves to gamble and this gets him and the Mallrats in trouble with Tribe Circus. KC can think fast and shows this when he gets the Locos to leave him, Amber, and Bray alone by telling them that they had the virus in season one.

Ari Boyland plays KC and is 14 years old. He has been in many theatrical and musical productions including the musical Oliver and the New Zealand Children`s Academy. Ari enjoys sports including soccer, basketball, flipperball, and rollerblading.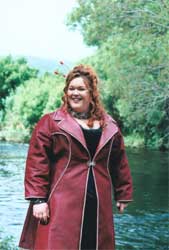 ALICE
Alice was first seen in season one trading with the members of the Mallrats from her farm. When Tai-san's antidote cures her little sister Ellie, she decides to go to the mall and be Tai-san's bodyguard. Alice looks after everybody in the tribe and is very protective of Ellie. She is a good organizer. Alice fall for Lex although he doesn't like her this way. She does find love in Ned though in season three.

Vanessa Stacey plays Alice and is 26 years old. She has been in several films (The Frighteners, Heavenly Creatures, and Willow). In the theatre, she has been in Charlotte`s Web, Baby with the bathwater, Work in Progress, and the Knitwits. Vanessa featured in the role of Alice in the first series of the Tribe. Vanessa has a Diploma in Directing Performance Art and enjoys singing, with a Certificate in Jazz Theory and Performance. Vanessa`s hobbies include theatre, music, singing, writing and directing theatre.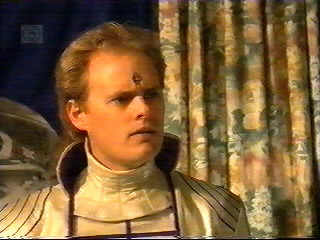 THE GUARDIAN
Is he simply ambitious or incredibly crazy? The Guardian is the leader of The Chosen. He used to be a Loco and considers Zoot to be a God. Everything he does is devoted to making Zoot's trademark phrase of Power and Chaos come true. The Guardian is willing to kill anyone and everyone who gets in his way. Him and his followers brainwash people into believing in the Guardian's cause.

Damon Adrews plays the Guardian and is 26 years old. He graduated from the New Zealand Drama School in 1992. Since then he has accumulated a wide range of experience in Theatre, Television, Television Commercials, Radio Plays and Film. In the theatre, he has been in A Man`s World, Split (which he co directed), Estimated Time of Arrival and Wind in the Willows. Damon has done a Trainee Directors and Writers course which he loves to put in to practice and has written a few plays. Damon first featured in the Tribe as the Guardian in 1999. Damon`s interests include; Guitar, Martial Arts, Swimming, and Skiing.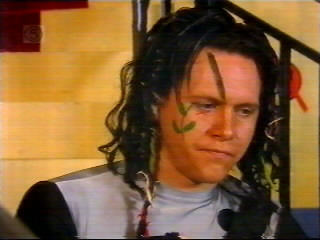 PRIDE
Pride was part of the tribe that saved Amber from the explosion in season one. A prominent member of the "eco-tribe", Pride is shy, reserved and polite. He lives by a code of conduct, means no harm to others and has an affinity with nature. But if necessary Pride will take action and be forthright without hesitation to defend what he feels is right. Prides main weakness is Amber, as he will give up anything and everything for her, even when other things look more important. Pride has had feelings for Amber, but he has found a new love in May.

Nick Miller plays Pride and is 21 years old and has acting experience in a range of media.He has a variety of stage experiences including roles in the Rocky Horror Picture Show, Summer Shakespeare, Arcadia and of course many school productions. Nick has made appearances in guest roles on many of New Zealand`s soaps and dramas. He made his television debut in 1996 in an ongoing role as Sean Kearney on Shortland Street. Nick has also had guest roles on Street Legal and Jacksons Wharf. The Tribe Series III was his first Core cast role. Nick enjoys, singing, canoeing, skydiving, swimming, rock climbing and being a DJ.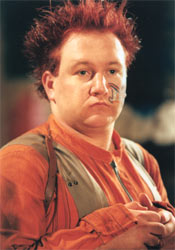 NED
Ned planned the kidnaping of two of the Mallrats which showed he is cool under presure and intelligent. Larger than life, Ned is intelligent and possesses a sharp wit which can make others laugh - or cry out in anger if Ned irritates them (which he often does). Stubborn and headstrong, Ned will seldom back down and always wants his way. Ned could not spell and in some ways he was gulable as he believed in Ebony, which in some ways lead to his death. Ned was in love with Alice.

Bevin Linkhorn plays Ned and is 27 years old. In 1994/1995 Bevin joined the VUW Dept of Theatre and Film as well as attending a Screen Acting and Auditioning Workshop. Bevin has had extensive theatre experience in the last 5-6 years including Welcome to Superbial, Questions, Milk, Two Boys. He has had roles in film, television commercials and television drama as well as theatre. Some of Bevin`s interests include: Acrobatics, Singing (Tenor), Swimming and Golf.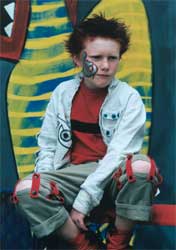 ANDY
Andy is Tally's twin and Ned's younger brother. He is quite an entrepreneur - he is always looking out for a good deal or to make a profit, even if this is by tricking someone in a scam. KC becomes a bit of a role model for Andy. Andy deep down is good and cares for Ned and Tally - and will do what he can to try to make the New World order a good one; his loyalties will never be with the Chosen.

James Ordish plays Andy and is 12 years old. He has had drama lessons since the age of 5. James has had roles in theatre, television commercials, television drama and film. James had a lead role in 1997 in a film called Murder House - coincidentally Amelia Reynolds also starred in the same film. In his spare time James likes tap dancing, drama, singing, guitar, and soccer.